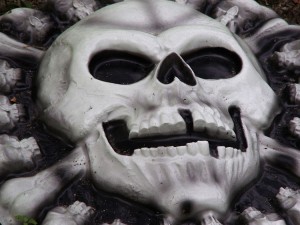 Most major theme parks roll out the entertainment for Halloween and offer extended opening hours together with a variety of scary and spooky attractions. These special nights have proved to be enormously popular bringing in visitors from far and wide. It should be no surprise that other businesses have cottoned on to the money making potential and are turning themselves into mini theme parks for the season of ghosts and ghouls.
Most theme park fans will have visited a park at Halloween at least once to subject themselves to the horror mazes like The Sanctuary at Alton Towers and The Asylum at Thorpe Park. These sinister attractions feature live actors and can be rather stressful experiences for some guests whilst others are more amused than terrified at the antics of the characters they meet in the mazes. Personally I think the best Halloween entertainment you can get is to stand outside the exit of the Asylum at Thorpe and watch the guests flying out of the doors with a chain saw wielding maniac (Thorpe Park Actor) in hot pursuit!
For those who enjoy the mazes and other experiences where live actors are involved it is not now necessary to travel to a theme park. The parks have the obvious advantage of the rides which are a whole new experience in the dark but other venues are providing some interesting alternatives to the parks' offerings are really worth a visit. The interesting thing is that many of the businesses hosting Halloween nights are Farms.
Farms have struggled in recent years to make a good living simply from agriculture and so many have turned to other ventures in order to generate income. Some like Millets Farm in Oxfordshire have transformed themselves into all day visitor attractions featuring farm shops, garden centres and small animal zoos. Others have extended ancillary businesses into full scale operations like Bridge Farm in Suffolk who have expanded their corn dolly business in addition to opening a gift shop and toyshop on the site. Some, however, have used their premises for more Ghoulish offerings and they are doing it rather well.
Tullys Farm in West Sussex has been operating its Shocktober Fest for several years and has won many awards in the process. A spooky night out at Tulleys now includes the opportunity to try out six haunted experiences with live actors and a great atmosphere. This place was voted the best scare destination in 2012 outdoing their larger theme park competitors with some brilliant presentations. Farmageddon in Lancashire are now doing much the same thing and offer three attractions to enjoy – or not! Also in Lancashire, Farm of Terror in Bacup is presenting the Haunted Farmhouse, Chasm of Clowns and Psycho City. Lovely!
It looks like farms might be the new theme parks when it comes to Halloween entertainment and I would expect more to jump on the bandwagon. They have the space to lay on some pretty impressive stuff and have great creativity to go with it by the looks of it.
Byline
Article by Sally Stacey