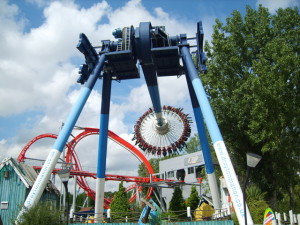 There is something fascinating about the sight of a roller coaster full of people in costumes or their underwear. Don't ask me why but it just looks brilliant and it is great publicity so it is no surprise that Theme Parks are happy to host world record attempts for lingerie or nudity and even arrange such events themselves. Now Drayton Manor has got in on the act by attempting to break the world record for the number of visitors wearing a onesie.
Cheap Day Out
Visitors were allowed into the park for just £5 rather than the usual £36 if they wore a onesie. So many people flocked to the park that the gates were closed early. It didn't take long to surpass the required figure and when the guests in onesies were asked to congregate in the middle of the park to be counted there were 3152, easily breaking the previous record of 1184. The event was so popular that it caused tailbacks on nearby roads and a queue of 90 minutes to enter the park.
Another Record
A second world record followed as the crowd also managed the longest scream which reached 80 decibels and lasted for an amazing 8 minutes and 45 seconds. I am glad I missed that one as I can't stand ear piercing screaming especially on rides!
Poor Park
I am sure the record attempt gained valuable publicity for the park and it certainly boosted their visitor numbers. Having visited Drayton manor I would say that they need all the help they can get because I wasn't impressed by the place one bit!
Lingerie
The onesie event probably wasn't as eye catching as the lingerie event hosted by Alton Towers when they teamed up with Ultima Bras. A group of ladies wearing nothing but their lingerie was filmed riding the various coasters to prove its supportive qualities and the episode must have been quite a sight. There have been similar stunts with men in their briefs showing off well-toned torsos.
Nudity
Things were taken one step further back in 2004 when Thorpe Park hosted an attempt to set the world record for the most naked riders on a roller coaster. 81 students stripped off to take a ride on Nemesis Inferno. The record was established at 28 which is the number of seats on a nemesis train.  This number was surpassed the same year at Alton towers when 32 naked guests rode Nemesis. This effort was then beaten in 2010 when 102 nude riders took on Green Scream at Southend's Adventure Land.
What Next?
I am sure these efforts won't prove to be the last. World records, lingerie and nudity are all guaranteed to get people rushing to the parks which then gain the sort of publicity that would cost a fortune under any other circumstances. Actually I quite like the idea of taking part and so the next time I see an invitation to attend a theme park in my onesie, nightwear or underwear I will answer the call. I think I might invest in some smarter lingerie for the day though!
Byline
Article by Sally Stacey