Thorpe Park has announced its new attractions for the 2014 season and the ever popular Angry Birds are at the heart of a facelift for two old/existing installations. Those hoping for a major new ride at the park will be disappointed but parent company Merlin do not look keen on any major investment at Thorpe in the near future.
New for 2014
2014 will see the arrival of a new 4D movie experience housed in the old Time Voyagers theatre. The park is making moves towards becoming more family friendly as there is currently little on offer for small children but one wonders what difference another movie attraction will make as few visitors seemed interested in the previous incarnations. True enough, Angry Birds should prove to be a more interesting theme than Time Voyagers which was frankly dreadful and it will be an attraction that families can enjoy together. An indoor attraction is also useful on rainy days but I can't see this one doing much to reduce the interminable queues at the coasters during peak periods.
Dodgy Move
The new film will be supplemented by the installation of Angry Bird themed dodgems which is fine for families but this is something they can find pretty much anywhere and so is hardly likely to attract new guests to the park. I can't see there being much interest here which is probably just as well as the throughputs will inevitably be very low.
The Big Drop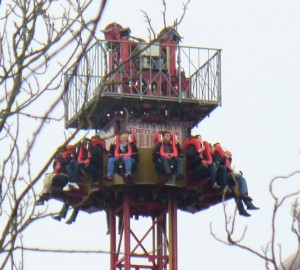 Angry Birds will also be visited upon Detonator, a rather tired looking drop tower which could do with a boost but which is not available to younger guests due to the height restriction.
New Land?
The Thorpe website is advertising the arrival of Angry Birds Land but this is not a new land but rather simply a revamp of an existing small area with the additional of a fairground attraction that went out with the Arc. The park sorely needs significant investment into attractions for youngsters if visitor numbers are to grow but I don't think these plans are going to make much of a difference to the appeal of the park.
Playground
There are few attractions for youngsters at the park which lacks even a simple playground where kids can have fun. There is the beach but that is off limits for much of the year due to the weather and the Fright Nights attractions and so small children are left with a handful of rides to enjoy. In the absence of any significant investment just a small adventure playground or a park where kids can have a kick around with a football would be an improvement.
I certainly hope that the arrival of Angry Birds will see the introduction of characters for the kids to meet at the park. Thorpe lacks the joy of character encounters and the atmosphere suffers as a result. This would be the perfect time to introduce the concept but I don't think it will happen. Go on Thorpe Park Surprise me!
Byline
Article by Sally Stacey