I have to admit that on the occasion of my last visit to Six Flags Magic Mountain I was so focused on riding Tatsu and X2 that I hadn't given much thought to anything else. There had been several new rides constructed since my last visit but I hadn't given them any thought so it came as a great surprise when Apocalypse turned out to be my favourite attraction at the park.
Disappointment
I loved Tatsu but found X2 to be a crushing disappointment and was wandering across the park wondering what to ride next. I arrived outside Apocalypse and was struck by memories of its predecessor Psyclone which was one of the most painful experiences of my life! Having been shaken to the brink of collapse by the old coaster on the site I stood outside of Apocalypse wondering if it was a good idea to take a spin.
Great Coasters International
This was my first ride on a Great Coasters International (GCI) wooden construction and so I did not realise that these are entirely different beasts to the traditional wooden coasters. Whilst the traditional rides are firm favourites with serious coaster enthusiasts, I have always found them pretty uncomfortable and so Apocalypse was a revelation.
The Queue
The exterior queuing area is rather uninspired and leaves guests exposed to the heat for a considerable length of time. Riders are then sent into the station building in groups and pass various themed areas before arriving at the platform when they will find themselves with only a few guests ahead of them. I was somewhat overheated by the time I stepped into the train but was immediately cheered by the cosy seat that I slipped into. This thing was softer than a wool rug and I could have sat there all day!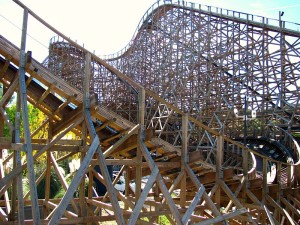 The Ride Experience
The ride is a thrilling high speed dash through steep drops and twists and turns with the specially designed trains enabling sharp manoeuvres and banking that is not possible on a conventional wooden coaster. At one point in the cycle the train thunders over the station deafening the waiting guests and there are pyrotechnics en route too. I was smiling all the way round and was delighted to disembark with no bruises and abrasions! I enjoyed this one so much that I immediately joined the queue for another go. I know many people don't rate the GCI coasters but if you like the idea of wooden coasters but dread being bashed about here is the perfect solution. This coaster is sited at the extremity of the park well away from the entrance and other major rides which proved to be another benefit. Towards the end of the day there were few people at the ride and it was possible to grab several spins without queuing.
I have since ridden Woden, another GCI coaster at Europa Park. The ride experience is similar but the German coaster has far superior theming and a quite brilliant queue line which makes the whole experience amazing. Apocalypse, however, is still a great ride and it really topped off my day at the park.
Byline
Article by Sally Stacey