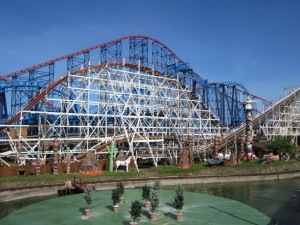 The Pleasure Beach offers a pleasing mix of historic rides and modern thrill machines and sits on the seashore at the southern end of the Golden Mile. This an extremely compact amusement park which has little in the way of landscaping and theming but is a triumph of hope over expectation in the sheer number of attractions that have been packed into such a tiny space. The entrance fees are very reasonable and there is certainly plenty to keep you occupied for a whole day and more.
The Coasters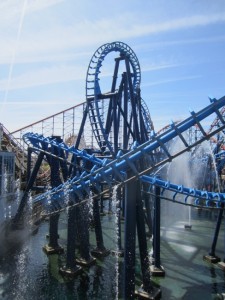 The main attraction at Blackpool is the Big One, a steel hypercoaster which was the tallest in the world when it was constructed in 1994. It still offers an exciting ride experience to even a hardened coaster enthusiast especially in the rather abrupt crank to the right at the top of the first hill! Infusion, an inverted steel coaster, stands next to the Big One and takes riders on a flight over water with several inversions. Infusion is the sister ride of Blue Tornado at Gardaland and is just as uncomfortable with a lot of head banging! A good friend of mine christened these horrid contraptions Fractured Skull the Ride! They are even more painful than Punctured Lung and Broken Rib the Ride (Colossus at Thorpe Park). I am not a great fan of Revolution either. This is another steel coaster which takes you through a short track with a loop and then returns you to the station via the same track backwards causing spinal injuries en route.
If wood is more your bag, the historic Grand National will please you with plenty of air time and buckets of nostalgia (and largely no pain). Built in 1935 the ride is themed for the famous horse race and has two trains running simultaneously on parallel tracks vying to cross the winning post first. Big Dipper, another woody, dates back to 1923 and is a fun ride packed with history that runs alongside Infusion. The Wild Mouse is a brilliant ride of its kind with insane turns in ridiculously rickety cars that will really get you laughing in spite of your broken ribs. The timber line-up is completed by Nickelodeon Streak (formerly Roller Coaster) and Blue Streak, a kiddie coaster which is also part of the new Nickelodeon children's area of the park.
The Pleasure Beach also features Avalanche a really rather short but excellent bobsleigh ride with high speed turns and the totally unique Steeplechase. If you haven't ridden this one it is worth the trip to experience this ridiculous machine where precarious guests ride carousel horses around a coaster –like track. It is insanely brilliant!
Other Attractions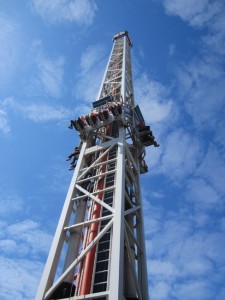 The star of this park is probably Valhalla a truly superb indoor water ride with steep drops, fire, ice and very cold water most of which ends up over the riders and in the boats. Don't take this one on if you don't want to get your deck shoes shoes ruined as you will get soaked! If you need to dry off walk over to Ice Blast and get fired 100 ft into the sky for great views of the coastline. For a more peaceful and dry journey the new Wallace and Gromit Thrill-O-Matic dark ride is very entertaining for the whole family and does feature some rather euphemistic scenes which will appeal to the adults' sense of humour. There are several other minor rides and attractions, an ice show and the excellent new Nickelodeon area packed with attractions for the kids to enjoy.
Conclusions
There really is a surprisingly good selection of rides and attractions at the Pleasure Beach with something for everyone to enjoy. It is not the most picturesque park in the world but somehow that doesn't matter as the number of rides, compact layout and reasonable prices more than make up for the lack of scenery. The food offerings and refreshments are pretty decent too and so I can recommend a visit to this iconic park.
Byline
Article by Sally Stacey