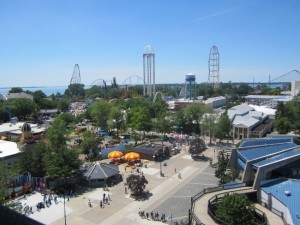 This is the park which has won the Golden Ticket award for best amusement park 15 years running and is the dream destination of all coaster enthusiasts. As you approach Cedar Point you immediately know why this is this case as a mass of brightly coloured track appears before you standing on a peninsula of land jutting into Lake Eerie near Sandusky, Ohio. The setting on the shores of the lake, the sheer enormity of the park and the number of thrill rides on offer make Cedar Point the place to be and if you love rides you simply have to pay this place a visit.
The Park
Cedar Point does have a location to die for being almost totally surrounded by water and set well away from neighbouring communities. It is a huge place making it lengthy to navigate but it is packed full of attractions to enjoy. The landscaping and theming is not going to frighten Disney but the place is well maintained and attractive enough with an old time amusement park feel and you do have the opportunity to spend some time on the beach when you want a break from the rides. The real let down is the catering which is poor and the cold drinks are very expensive which explains, at least in part, the extremely low cost of an annual pass!
The Coasters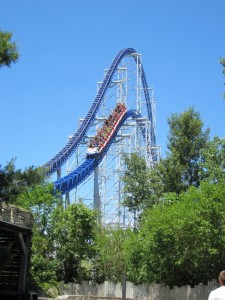 When it comes to extreme thrills there is nowhere to beat Cedar Point. Not only does the park boast 17 roller coasters but there are several heroically great ones so there is certainly not a case of quantity over quality. Millennium Force is regularly voted the best steel coaster on the planet and it is not hard to see why even from the ground. This 310ft behemoth rises steeply from the station alongside the lake shore and then plunges riders on a breath-taking charge at 90mph down steep drops and sweeping turns. You can really feel the force!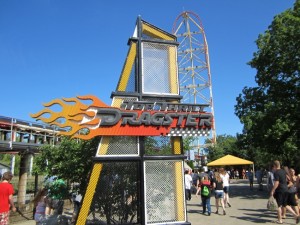 Top Thrill Dragster is, at 410ft, one of the tallest coasters in the world which capitulates guests at 0 – 120mph down a launch track and up and over a giant tower treating them to a full twist on the way down. It is a short ride but an extremely intense experience and if you are brave enough to keep your eyes open there are magnificent, if brief, views of the park from the summit.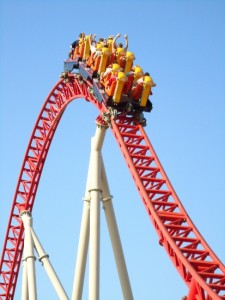 For a flavour of the Wild West and a full throttle chase try Maverick a ride of diminutive stature which punches above its weight. Riders are sent on an accelerated lift, over a 105ft, 95 degree drop before speeding around the 1360 metre track at up to 70mph. Mid-cycle there is a dramatic launch from a dark tunnel into a sharp left turn before the trains speed around a lake and get assaulted by water bombs. This ride is proof positive that big thrills can come in little packages.
Once you have tried out the big three treat yourself to a turn on Mantis, a stand-up coaster, Raptor and inverted coaster and Mean Streak, a giant woody before perhaps taking a break! You must then contend with Blue Streak, an historic woody, Magnum XL 200 a vigorous steal hyper coaster, Corkscrew, Gemini, Iron Dragon, Wicked Twister and then the newest addition, Gatekeeper, a huge wing rider over the entrance to the park.
Thrill Rides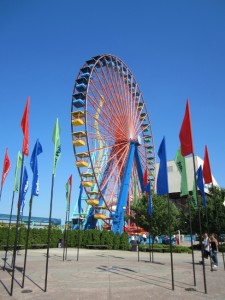 You may be feeling a bit breathless just reading this but there is a lot more at the park for thrill seekers. MaXair will spin you at 70-mph high into the air and Skyhawk, the world's highest swing ride, sends rides at 60mph to a height of 125ft. If you would rather go down than up try Power Tower a 240ft drop tower with panoramic views over the park. The best view of the area can be had from Windseeker a 301ft tower with rotating chairs situated right next to the lake shore. For a good drenching the water rides Shoot the Rapids, Thunder Canyon and Snake River falls are great fun and there are a variety of other flat rides and family experiences to enjoy including several attractions for small children. If you run out of rides in the main park there is also a water park on site for additional thrills and cooling off on hot days.
Conclusions
Cedar Point is a magnificent park which is packed full of rides and attractions for all ages and which has a great location on the shores of lake Eerie. Many of the best rides in the world are here and it takes several days to cover all the attractions on offer. The theming and landscaping may not be top draw but somehow you don't even notice that with all the diversions and if they could get their food sorted out there would be little or nothing to criticise. Whilst in the area it is worth exploring the nearby lakeside towns for a peaceful afternoon where you can shop for clothes, souvenirs, gorgeous gifts and perhaps some better food!
Byline
Article by Sally Stacey