A theme park situated close to London and just a couple of minutes from the M25 should attract plenty of customers but outside of the school holidays Chessington's visitor number are generally low and it is not hard to see why. This is a park marketed primarily to families and the rides are mainly geared towards children. Many of the offerings have been features of the park for a long time and are looking tired, dated and have rather outstayed their welcome but there have been some recent improvements and the animal exhibits are largely excellent making this place a good destination for animal lovers of all ages.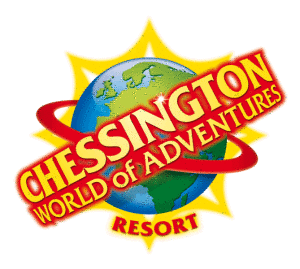 The Park
Merlin Entertainments operate three theme parks to the south and west of London and each park has been geared to a different audience. Whilst Thorpe Park is the home of the thrill ride and Legoland principally caters for small children, Chessington World of Adventures finds itself occupying the middle ground with attractions for older children and adults for whom large rollercoasters are beyond the pale. Chessington was the park developed for this market because it is surrounded by affluent suburban housing whose owners would raise objections to developments of large, noisy rides, not wanting their outlook and environment to be overshadowed by tall masses of twisted metal. Unfortunately the resulting lack of new development has produced a park with an identity crisis and an aged selection of attractions.
The Rides
There are two roller coasters neither of which are in the forefront of coaster technology! Vampire is a reasonably tame inverted coaster which is fun without being overly thrilling but does have the novelty of flying over walkways in the park and is a lengthy if rather uncomfortable ride. Vampire's queuing area is quite pleasant but the ride and station are looking worn and frayed at the edges. Dragon's Fury is a spinning coaster of minimal altitude but is better than many similar rides if rather short in duration. As the only two available coasters these rides attract huge queues when the park is busy.
Tomb Blaster is a laser shooting ride which is actually rather good although prone to equipment failure and is a excellent bet in poor weather which is more than can be said of Rameses Revenge next door. This machine subjects riders to several violent mid-air tumbles before suspending them above fountains of extremely cold water and yes you do get very wet! The park also features a log ride, a runaway mine train, a wild mouse and Kobra, a large spinning platform on an undulating track which is a little underwhelming. The less said about Bubble Works the better and I will restrict myself to the observation that this water ride is boring and pointless! There are a variety of flat rides but these are largely the usual suspects on offer at most amusement parks.
Animals
The wildlife exhibits at Chessington are generally rather impressive. The Gorillas are a particular highlight and there are large enclosures featuring lions and tigers with the animals usually clearly visible. The monkey walkthrough which features marmosets up close and personal is a great attraction but the SeaLife centre is much like any other although a pleasant enough way to pass the time. The latest attraction at the park is Zufari , a safari experience in a jeep which is a good enough idea but which lacks enough animals to make it really memorable.
Visitor Experience
The park is quite attractive for the most part especially around the animal exhibits but some of the rides look very tired and portions of the theming appear to be falling apart, notably some of the areas around the log ride, Dragon Falls. Here the faux rocks are suffering from an attack of mould and much of the underlying polystyrene is becoming visible. Some of the "rocks" have also fallen off and so perhaps an investment in some bonding adhesive would be in order. This area could certainly benefit from the kind of facelift visited on the Wild Asia section of the park which looks fresh and appealing. All in all Chessington is a nice day out but don't expect anything radical or revolutionary from this place because you won't find it!
Byline
Sally Stacey is a theme park enthusiast who currently writes on behalf of The Plastic Depot from where Chessington could have purchased some Firestone Bonding Adhesive.