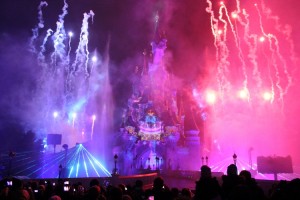 Disney are legendary for the grand finales they lay on to crown your day at one of their parks. Until recently, however, Disneyland Paris was rather a poor relation of the American Parks with a low key firework display ending the day. I was pleased to hear that Dreams was to come to the Paris and last year I set off with eager anticipation to see what the new show had to offer.
I pretty much knew what I was going to get as the extravagant show had received a great deal of advance publicity and YouTube was littered with videos taken by visiting guests at the park. No matter how much you know about a Disney attraction before you arrive, they have an infinite capacity to surprise and delight when you are actually there and so it was with Dreams.
Waiting for the Action
After a busy day on the rides and watching the parades I took up my place to watch the show early in order to grab a great view. The park was not overly busy but my anticipation was clearly shared by the other guests because everyone who had visited that day had clearly stayed to watch the extravaganza. Standing before the enchanting castle I was already mesmerised by the colour and atmosphere and I couldn't wait for proceedings to begin especially as it was rather cold to be standing around. I kept taking a peak at my watch but time seemed to be passing all too slowly.
The Show
In advance of the show the castle was transformed into a riot of colour and sparkle before the lights in the park were dimmed and we were off. What followed was a lively romp through classic Disney films featuring astounding projections onto the castle and fountains, a toe tapping soundtrack and pyrotechnics all around. It was impossible not to get caught up in the joy of it all as favourite characters and scenes came to life before my eyes in a dazzling ensemble of magical special effects.
Magical Ears
Dreams is a show that you really do not want to end even if it is cold and I thought it was an absolute triumph. Since my visit the whole experience has been further enhanced by the option to purchase Disney Mickey ears called "Glow with the Show" which illuminate in a myriad of colours and are synchronised to the Dreams production.
The Best View
I had been looking forward to Dreams and the reality was so good that I returned the following night to watch it all again. This time I stood further away from the castle and the experience was very different. Close up you feel more involved in the production but father away the projection looks clearer and there is a greater sense of symmetry between the elements of the spectacle. I preferred standing back a bit, my friends liked it nearer the action. It is definitely worth seeing dreams more than once to see what suit you best!
Article By Sally Stacey