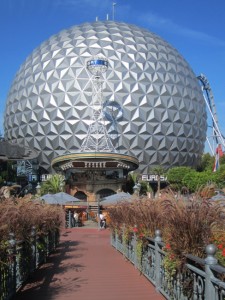 Every year millions Tourists head for the European theme parks for a few days of fun and to escape the real world. Whilst everyone knows about the delights of Disneyland Paris, Europa Park in Germany remains largely undiscovered by British tourists and is not a big destination for visitors outside of France and Germany. This is a real shame because Europa Park is quite possible the best Theme Park in Europe.
The Park
Europa Park is situated close to the A5 motorway next to the village of Rust, just a few kilometres North of Freiburg. The park can easily be accessed by road or from Basel-Mulhouse and Baden-Baden Airports from where shuttle busses will transport you to the park. Rust sits on the edge of the Black Forest, a popular tourist region and so Europa Park is an excellent base from which to explore the entire area.
The Park is arranged in areas themed around different European countries and is beautifully landscaped with gardens, wooded areas and a lovely lake at its heart. The theming is really very impressive, the rides operate smoothly and the whole place runs with typical German efficiency. The food is truly amazing for a theme park and the prices are excellent, indeed the cuisine is a highlight of any visit.
Thrill Rides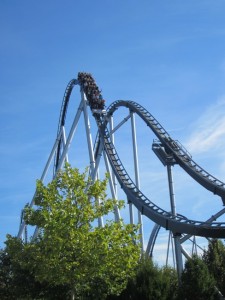 If you love a good coaster then you will not be disappointed by a visit to Europa Park which has several excellent rides to enjoy. Silver Star is a fabulous steel coaster by Bolliger and Mabillard which was, until recently, the tallest coaster in Europe. This ride affords plenty of air time together with a 73m first drop and speeds of up to 130kph.
The newest coaster in the park is the wonderful Wodan a wooden coaster by Great Coasters International with sharp drops and high speed turns and the novelty of passing over two other rides. This coaster has a really impressive queue line with many features to entertain the guests and is themed on Viking gods.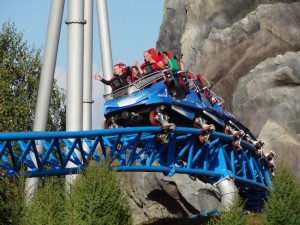 Blue Fire, a ride by Mack who own the park, is a thrilling masterpiece with an amazingly smooth ride. Blue Fire launches guests from the station before sending them on a high speed chase through sharp turns, drops and inversions around a nicely themed rocky landscape.  When you have experienced the big three coasters you can continue your fun on Euro Sat, a decent coaster in the dark, Euro Mir a spinning coaster with some unusual twists and Matterhorn Blitz a wild mouse with a very original lift hill! There is a junior coaster, Pegasus, for budding ride enthusiast and a bobsleigh ride offering fun for the whole family.
Water Rides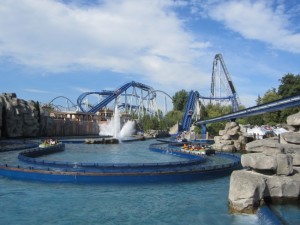 Europa Park has a good selection of water rides with a first class combination of fun and thrills. The theme park staples of a log flume and river rapids are complemented by Poseidon, a rather brilliant liquid coaster with water and track elements, amazing theming and a big splash at the end! You will also enjoy the Atlantica SuperSplash  which includes a novel backwards element and you can get merrily soaked on Whale Adventures whilst spraying other guest from your water cannons.
Other Attractions
The park boasts an array of other attractions with many suitable for kids and the elderly. Abenteuer Atlantis is a great laser shooting game, Volo da Vinci takes you on a flight over the park, there is a revolving viewing tower and also several flat rides to take in. If you want to grab a little piece then the woodland areas and pretty gardens are a perfect retreat and there is a huge selection of restaurants and cafes to relax in including Food Loop where your meal is delivered by roller coaster! Shopaholics will also have a great time in the many fine retail outlets which offer everything from nice ornaments to pirate outfits, beach accessories to fine porcelain. There is truly something for everyone at Europa Park
Visiting
The park is open most of the year with the full range of rides and attractions available from mid-March to early November. It will take more than a day to experience everything the park has to offer and there are five wonderfully themed hotels on site for an overnight stay. Ample parking is available close to the entrance and the ticket prices are very reasonable too. There is really nothing to criticise about this park and it will certainly satisfy ride enthusiasts, children and escapists alike.
Article by Sally Stacey