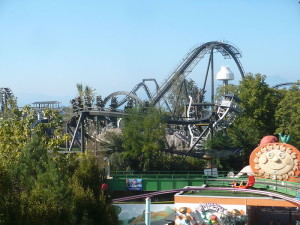 Gardaland has one of the most picturesque settings of any theme park in the world. Close to the shores of Lake Garda in Northern Italy, it is just a short drive from historic Verona and is surrounded by beautiful countryside and gorgeous lakeside towns. The park is worth visiting for its own sake but can also form part of an extended trip to the region.
The Park
Gardaland is largely a pretty and pleasant place with good landscaping featuring many trees and flowers. There are a few areas of the park which need attention but it is generally a nice place to walk around and there are some peaceful corners to enjoy a sit down. The food is decent with reasonable prices (the pizzeria is particularly good) and the park is relatively compact and easy to navigate. The morning opening ceremony was an unexpected surprise for me. I haven't seen one of those since I was last at Busch Gardens!
The Rides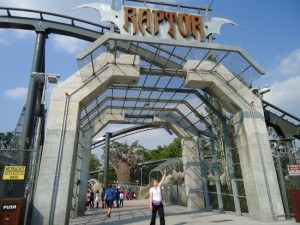 The highlight of the park is Raptor which was the first of the Bolliger and Mabillard wingriders to be constructed. The theming here is excellent pulling off the illusion of a military installation very well. The ride area is surrounded by high fences, walls and fake barbed wire and the queue line is like a containment cage. The ride itself is not especially severe but it is great fun with a good layout and a unique near miss through a tree. There is the novelty of water fountains which spray guests copiously as the ride car tilts into a turn. Unlike the Swarm at Thorpe the water actually hits the target rather than missing the car completely!(My shoes got soaked).
Mammut is a rather brilliant creation a bit like Disney's Thunder Mountain Railway but set in the ice age! With several drops, twists and turns and wonderful theming this ride is a real joy but attracts big queues at peak times. The other triumph at the park is Fuga Da Atlantide an excellent water ride set in the lost city of Atlantis. The theming here is first class and the ride is a diverse mix of fun and visuals combining a peaceful float trip with some interesting drops.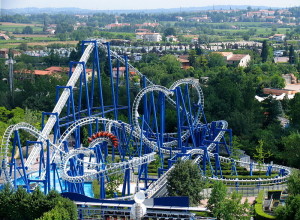 Gardaland also features Blue Tornado a clone of Infusion at Blackpool. This a Vekoma construction which is just as painful as Infusion and minus the water features! Magic Mountain is another Vekoma steel coaster with a double loop which is also a bit uncomfortable and looks a little outdated. Within the Magic Mountain track you will find Sequoia Adventure an S&S Screaming Squirrel which is a bizarre and largely pointless contraption like a really slow wild mouse standing vertically. What were they thinking of when they put this one in the park?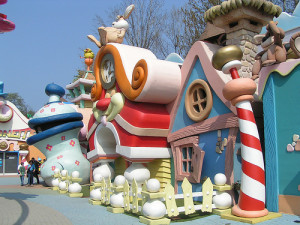 Other rides include the Colorado Boat log ride, Space Vertigo which is a decent drop tower, Magic House (much like Hex at Alton Towers) and several smaller rides suitable for children. You can also have fun on the Ramses laser shooting ride and get wet on the Jungle Rapids. There is a Sea Life centre next door for which you pay extra and it is pretty much like all the other Sea Life centres.  Let's face it there are enough of them now! You may also enjoy the adjacent water park too. All in all there is plenty to keep you occupied for a day or more at Gardaland and the park is a great place for kids.
Conclusions
I flew out especially to visit Gardaland when Raptor was first opened. I had a great stay and really enjoyed the park but it is not so amazing that it really warrants a special trip unless combined with the water park and other attractions in the area. It is, however, well worth visiting if you are in the region. Lake Garda and the surrounding towns have much to recommend them and are a wonderful place to stay if you are making the trip to see the park.
Byline
Article by Sally Stacey who visited Gardaland in 2011