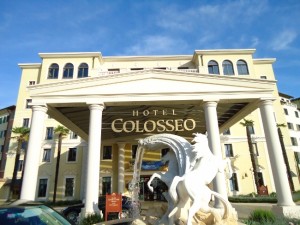 It is well worth enhancing your visit to Europa Park by staying in one of the fine themed hotels on site. If you love the ambiance and fine food of Italy then your natural choice will be the excellent Hotel Colosseo, a four star+ establishment with all the facilities you need for a luxurious stay after your hours of fun in the park.
Possibly the last thing you expect to see in Germany is the Roman Coliseum but as you approach the park entrance from the motorway an impressive replica of this iconic building appears before you in the shape of the Hotel Colosseo.  The hotel is built around a beautiful piazza with dancing fountains and both the exterior and interior transport you to the Italian capital as soon as you enter.
The rooms are all beautifully decorated and furnished in the Italian style with standard and superior rooms to choose from together with several impressive suites with balconies overlooking the piazza below. The hotel features a spa, swimming pool, games room, hair salon and gift shop for some relaxing time away from the park and you can spend a fabulous evening in the cocktail bar or one of the Colosseo's first class restaurants.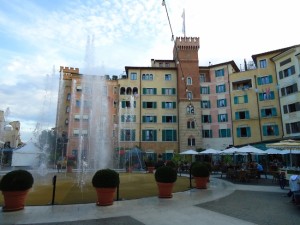 Choose between Cesare, an a la carte experience, or the amazing buffet at the Antica Roma. Both restaurants are adjacent to the piazza on the ground floor and offer al fresco dining during the summer months. Diners will be delighted by the fountain shows with music and the full scale Roman themed extravaganza performed above the piazza in the evening. If that is not enough entertainment you can also enjoy being serenaded by the resident musicians and their flamenco guitars whilst you enjoy your food. The evening atmosphere at the Colosseo is a delight and the food certainly won't disappoint either!
The hotel has ample parking and offers speedy access to the park via an entrance just across the road. The cost of a room does not include entrance to the park and tickets must be purchased separately but you can do this at the time of booking. If you have a business trip in mind the Colosseo has first class conferencing facilities and would also make the perfect venue for a beautiful wedding reception or party.
Everything about Europa Park is model of class and efficiency and the Hotel Colosseo is no exception. A stay here will certainly add a special flavour to your visit but will probably enhance your waistline too!
Article By Sally Stacey