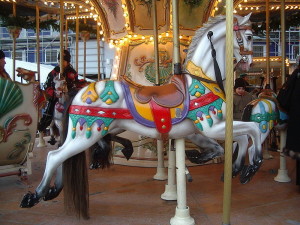 No matter how much children may have been looking forward to a theme park visit, the day can prove to be a challenging experience for youngsters. Crowded parks, long queues and attractions that they cannot ride can all lead to disappointment and fatigue. If you want to keep the kids happy then some careful planning can help.
Research
Do your research in advance of the visit to find out which attractions have height restrictions and will therefore be off the menu for your kids. Carefully explain the rules so they will not be expecting to ride as this will avoid the terrible disappointment that inevitably ensues if they get turned away from the rides. There may be some attractions that are off limits for the kids but which you wish to experience. If this is the case then take another adult with you to mind and entertain the children whilst you ride. Most parks have parents swap systems so a second adult can ride without queuing.
Explanations
It is well worth taking some time to explain about the dangers in theme parks, how easy it is to get lost and that you may have to spend time in queues. If the kids are primed before they go they will be less likely to get restless, misbehave or wander off. Always tell them clearly what to do if you become separated. Every park has its own procedures for dealing with lost children so acquaint yourself with these before you arrive.
Distractions
Kids bore easily making queuing a real challenge. Take something with you to pass the time like puzzles, books and toys. Cameras can be useful as you can task the youngsters with getting some great shots of the ride. Take only small things which can be slipped into a zipped pocket and avoid taking valuables like tablets because you may have to leave them unattended whilst you ride.
Arrive Early
Early birds can enjoy some of the rides before the crowds build up. The shorter the queues the happier the kids will be so arrive early to make the most of your day. Once the park gets busy visit some of the minor attractions, eat lunch and relax for a bit until the queues die down again.
Toilets and Breaks
Don't turn the day into a route march and take plenty of breaks during your trip. Kids will find simply moving from one queue to another really tiresome so break up the action with some play time, snacks and treating them in one of the shops. Always make sure that youngsters don't need the toilet before entering a queue line. If you leave the line you won't be allowed back to where you were.
Dress
Dress the kids in comfortable, casual clothes and shoes. If there are water rides which they are able to go in then choose garments that dry quickly and keep a spare top in a bag in case they get cold. Theme parks are not the best places for special clothes, like those from boutique brands like Scotch Shrunk, as they are liable to get trashed!
Choices
Let the kids make some of their own choices about what to see and do. Their priorities may be very different to your own and it is always hard to know what will grab their attention the most. If they have some measure of control over their day they will almost certainly be a lot happier. Don't push them too hard to ride attractions that they are scared of. Some fear of the unknown is inevitable and can be overcome by explaining what will happen but if a kid is genuinely terrified forcing them onto a ride could put them off for life.
Byline
Article By Sally Stacey