I won't beat around the bush here. If you are frequent visitor to Theme parks in the UK the Merlin Annual Pass is a no brainer. With four of the UK's theme parks and many other visitor attractions being operated by Merlin Entertainments the Annual Pass can prove to be great value and you don't have to make many visits to justify the cost.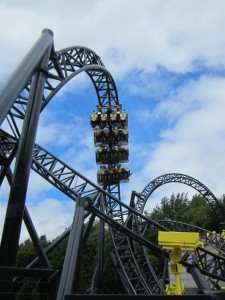 Attractions
Merlin operates Alton Towers, Chessington World of Adventures, Thorpe Park and Legoland. They also boast Madame Tussauds, Warwick Castle, the Blackpool Tower, The London Eye, the Dungeons and numerous Sea Life centres so there is plenty to enjoy.
Price
There are two version of the pass – standard and premium. The premium pass includes free parking at the theme parks and there are no exclusion days. The standard pass restricts access to some attractions on certain days, notably the London sites in August. It is worth getting your spectacles out to examine the small print before deciding which pass to buy. The prices are currently £159 and £195 but there is 10% off if you purchase online. Better still you can grab a free pass if you shop at Tesco as Clubcard points are redeemable for the Annual Pass. It can also pay to choose your timing wisely as there are often special offers reducing the cost considerably so keep an eye on the website. I should also mention that the first pass is the most significant investment and it gets cheaper thereafter as the cost of renewing a pass is considerably lower than the price for your first one.
Benefits
The Annual Pass gets you as many visits as you wish to the various attractions which is great value but to get the most bang for your buck check out the other privileges because these can add considerably to your savings. For a start you get 20% off food and shopping in Merlin concessions. Never buy so much as a coffee without showing your pass as the discounts really mount up. You also get 20% off the Alton Towers water park and 50% off entrance to any of Merlin's international attractions like Gardaland and Heide Park. There is additional ride time at Alton Towers for pass holders and throughout the year you will see numerous special events. You will also have access to reduced priced tickets for friends and family.
Usage
Like any annual pass the Merlin offering only represents good value if you use it but with so many options that really shouldn't be difficult. Just three visits can be enough to show savings over the cost of the standard entrance fees and you won't waste time queuing for tickets. Pass holders have their own entrances at many of the attraction too which can mean that you gain access quicker on busy days. This privilege is particularly useful at the London Dungeon and Madame Tussauds where ridiculous queues can form just to get to the ticket desk.
I am pleased to say that due to my free annual pass, which I obtain with Tesco Clubcard vouchers every year, I have never paid to enter a Merlin attraction. I do think, however, that even if I paid for the thing I would get my money's worth and then some.
Byline
Article by Sally Stacey