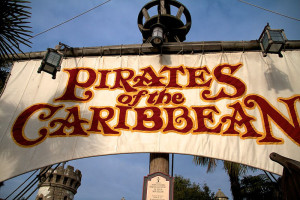 Yes it is a bit cheesy and frankly a little dated but Pirates of the Caribbean remains a hugely popular attraction at the four Disney parks in which each features. All four versions of the ride are similar and so to an extent if you have seen one you have seen them all but that doesn't seem to reduce the number of enthusiastic guests queuing up to take a ride.
I am clearly a bit of a philistine because the novelty has rather worn off on me but then again I can still remember with great clarity the first time I experienced the ride and I absolutely loved it! It was on a scale that I had never experienced in England and the sheer size of the attraction still impresses but I have reached saturation point when it comes to enjoying animatronic figures.
History
The ride was first opened in Disneyland, California in 1967 and was the last ride overseen personally by the great Walt Disney himself. It was originally intended to be a walk through attraction but after the success of It's a Small World at the 1964 New York World's Fair, it was decided that a boat ride was a better idea. The ride was a magnificent success and similar installations followed at Magic Kingdom, Tokyo Disneyland and Disneyland Paris.
Annoying Song
For those who have never experienced Pirates of the Caribbean, if there is anyone left who hasn't, the attraction takes you on a boat ride through several pirate themed scenes populated by a large number of animatronic figures and accompanied by the soundtrack "Yo Ho (A Pirate's Life for Me)". This little ditty is rivalled only by "It's a Small World" as the most irritating song in history!
A Useful Purpose
Whilst Pirates may have lost much of gloss for me I have discovered via a good friend that it can still play a crucial role in enhancing my enjoyment of a visit to a Disney park. I had always found my friend's repeated rides on Pirates a little curious even given his enthusiasm for theming and all things Disney. As it turned out there was a very good reason why he periodically headed for the ride and it had nothing to do with the pirates.
The ride is long, very long, and it is in a climate controlled building. My friend was using the ride to take a rest and to cool down in a place where he was guaranteed a seat! Having realised that this was really a quite brilliant tactic I used the ride myself for a rest in Paris, this time to warm up rather than to cool down. My December visit saw temperatures drop to ten below and I was chilled to the bone. Pirates of the Caribbean facilitated a new lease of life!
An Icon
There is obviously something about this ride which really captures people's imagination. Whilst I have personally had enough of it I can understand the appeal and I am not surprised that it inverted the usual order of things and inspired a series of movies. Usually it is the movies that spawn the rides. The movies in turn have inspired a renewed enthusiasm for pirates and probably a million pirate themed parties. I think that this is an attraction which will not be up for demolition as the parks are updated. Some things are simply untouchable icons that just have to stay and anyway we all need somewhere to take a break!
Byline
Article by Sally Stacey