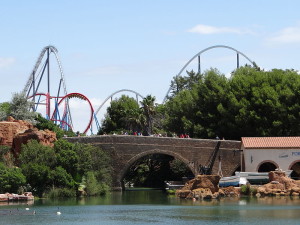 I have wanted to visit Port Aventura for quite some time but work commitments and other travel plans have always got in the way. I then discovered that the park is open over the Christmas period and decided that this could be the solution to my usual Christmas nightmare. I do not enjoy the traditional festive period of staying at home and over eating and have been looking for somewhere to go which won't cost the earth.
Lack of Information
Back in 2012, excited at the prospect of a Christmas holiday, I started to investigate the options at Port Aventura. Knowing that the price of flights can escalate towards Christmas I was anxious to plan ahead but my efforts stalled when I looked at the Port Aventura website. To say the information regarding Christmas was vague would be an understatement. Only one of the on-site hotels was listed as open and there were some less than enlightening comments about other rooms possibly being available.
Prices
I also noted that the prices at the one hotel were reasonable apart from on Christmas Eve when there was a massive jump making my proposed trip rather uneconomical. I thought that a phone call was in order to clarify the situation and contacted the park. The first agent I spoke to gave me the distinct impression of being confused. She had little information to add and quoted me a price for a stay which was even higher than the one offered online.
Further Details
I put the phone down and called back in the hope of being connected to someone else! Thankfully I was. I was told that the high price for Christmas Eve included a special dinner. I determined that at that price it must be the event of the century with sumptuous banquet, unlimited free drinks and unrivalled entertainment. I had visions of champagne and caviar, great drinks and being serenaded by Spanish music and then I had a reality check! This was clearly a racket and I wasn't having it. The second agent confirmed that further hotels may or may not be open over Christmas and that she didn't know when this decision would be made and then added insult to injury by telling me that the one hotel currently scheduled to open was fully booked!
Demand
Clearly there was demand for stays over the Christmas period and so I couldn't understand why Port Aventura wasn't getting its act together. Travellers cannot decide to visit at the last minute as they need to secure flights. I decided to give up on the idea and wait for another year in the hope that things would improve.
Trying Again
That other year turned out to be this year. As the New Year dawned I once again resolved to get away at Christmas and paid an early visit to the Port Aventura site to gather information but found none. If you enter Christmas dates into the system you are offered precisely no accommodation options despite the fact the online calendar shows that their hotels are open and things  are a bit sketchy for the rest of year as well. Perhaps visitor numbers would improve if the potential guests could see when they were able to stay and how much it would cost!
Byline
Article by Sally Stacey