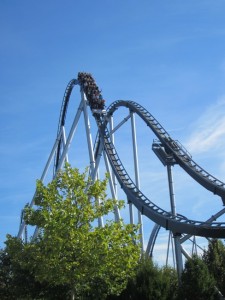 This was the coaster that inspired my first visit to Europa Park and I am very glad that it did because I loved the ride and enjoyed the park so much that I have returned many times since. I recall the first day I arrived when I was so keen to get to the main attraction that I sprinted past everything else including the lovely band playing Spanish Guitars at the entrance. I made the first train of the day and I think I was probably on the last one too! New rides have been installed since my first visit but somehow I can never get enough of Silver Star!
The Coaster
This is a B&M construction that was for some time the tallest coaster in Europe. The biggest rides are not necessarily the best but this one really hits the spot. The whole ride is themed for racing. The queue line runs through a Mercedes themed pavilion featuring racing cars and videos before taking you upstairs and around a galleried section which leads to the station. The queue moves quickly owing to the immense throughput of the ride and the efficiency with which it is run. Don't be put off by an external line here as I have queued from well outside the building and been in my seat within 30 minutes. There is an efficient bag storage system on the exit platform so you can leave your valuables without having to worry.
The Experience
The trains carry 40 passengers and the restraint system is comfortable and affords great freedom for the upper body. On leaving the station the ride quickly ascends the first hill and then charges down the impressive first drop. This is a coaster which is all about air time with a series of hills giving you plenty of time out of your seats. The ride is largely constructed over the car park which is a great way of squeezing a long coaster into the park and Silver Star is pretty long! At the half way point the ride makes a sweeping turn back towards the station before traversing more camel backs and climaxing with a helix followed by a neat tilt right and left approaching the break course.
Silver Star is a very smooth ride with plenty of thrills, a huge amount of air time, great views of the park and a magnificent throughput. You can grab plenty of rides on this machine as you won't have to wait that long unless the park is really busy and the thing never seems to break down. The ride merchandise is pretty cool too and if the excitement has been too much there is a coffee bar strategically positioned in the station building! I love this ride and despite the addition of Blue Fire and Wodan to Europa Park, a spin on Silver Star remains one of the highlights of any visit.
Byline
Article by Sally Stacey