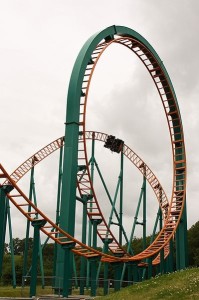 If you have experienced Saw the Ride at Thorpe Park then you will know pretty much what to expect with this one. Speed is another Gerstlauer Euro-fighter but without the elaborate theming and special effects that you get with Saw. Despite the lack of embellishment I actually prefer this one as the layout is better and the ride somehow seems more fun.
Oakwood
Speed is to be found at Oakwood in South Wales. The park's rather remote location means that many ride enthusiasts have yet to find their way there but if you can stomach the journey it is a pleasant place to spend the day. There are only five major attractions at the park but the setting is great and there are plenty of smaller rides to fill up the day.
The Ride
Speed lacks any kind of theming or landscaping whatsoever and is simply a structure that has been plonked down on concrete without any trimmings. As a consequence the coaster lacks the atmosphere of rides like Saw and the tension of the build-up. Having said that the actual ride experience is a good one and starts with a vertical lift hill and the signature beyond vertical drop. The 8 seat car then charges around a tight circuit that features many twists, drops and inversions. The ride seems smoother than Saw and the whole thing is great fun from start to finish. It isn't the best ride in the world but it is far from being the worst.
Speed is also good news for any youngsters who are just short of the height restriction for Saw the Ride. Here you only need to be 1.25m tall rather than the 1.4m required for Saw. This makes Speed a great family attraction and a good introduction to the world of roller coaster for younger riders.
Oakwood does not receive the number of visitors that the major parks do and so generally the queues are not too severe. On a quiet day you can hop onto the rides very quickly but allow a little time for Speed because the queue here moves quite slowly. A relatively short line can be deceptive as Speed runs with a maximum of two cars and despatches only one at once. With only 8 riders departing each time the wait can be lengthy even if the queue line appears to be minimal and there is nothing to entertain you in the queuing area.
Conclusions
Speed is a fun ride that delivers plenty of thrills and which does not bash you about nearly as much as Saw. Oakwood also features the excellent Megafobia woodie making it well worth a visit and a trip can be combined with a stay on the Pembrokeshire coast. After the roller coasters it is time to get your bucket and spade or angling tackle out and head for the seaside. Not a bad combination!
Byline
Article By Sally Stacey