Theme parks are now so popular that on many days they can be choked with visitors. It is not uncommon for parks to reach capacity and shut their doors and a really busy day can make for a very poor experience. If you have spent a fortune getting into a park you really don't want to spend your day in seemingly endless queues do how do you avoid the crowds?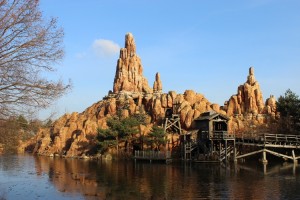 Off Peak
Even the most popular parks have quiet periods and these are largely the best time to visit but are always during school term times and so if you have kids things are more difficult. There is plenty of information online regarding visitor numbers at the various parks and it is usually possible to deduce the best times to make the trip. Parks which are only open for part of the year because of the weather can be a tougher proposition as the number of people who wish to visit must be condensed into a shorter period of time but there will still be quiet days. As a general rule of thumb September is a quiet time at most parks and the winter months are a fabulous time to try Disneyland Paris. The one time you really don't want to visit a park is just after the opening of a major new attraction. Anyone who went to Alton Towers after the opening of the Smiler or to Disney California Adventure when Cars Land was premiered will know what I mean!
There are some drawbacks to off peak visiting which should be born in mind. This is the time when parks which are open year round will perform maintenance on their attractions. You will probably find that at least one ride is closed during your stay but some parks, notably Disney, do advertise their closures well in advance. The other potential pitfall is the weather. Most parks in colder climes close in the winter but Disneyland Paris is open all year and it can get very cold. The last time I visited in February it was -10 degrees and I need my fur lined footwear!
Pay Extra
If you cannot avoid the busier periods at a park then one way you can at least reduce the amount of time you spend queuing is to avail yourself of the accelerated access schemes operated at some destinations. Many parks operate a VIP or Fast Pass system for which you pay extra but it may be worth budgeting extra for this privilege. The systems vary and there are usually several options to choose from so check them out online and decide what is best for you.
Tactics
If you can't afford the additional costs of accelerated access then it is time to consider your tactics carefully. Even on busy days it is possible to enhance your trip by tackling the park in the right way. Arrive early and be one of the first through the door. Head for a couple of the biggest attractions first and ride these before the queues build up. After that, head for the far reaches of the park and work your way back towards the entrance as most people will be moving in the opposite direction. Eat outside of normal dining hours. Lunch time and early evening are when the restaurants are at their busiest and the ride queues subside for a time. Most parks are best visited over more than one day. On your second day if the park has a parade and a show at the end of the day then miss these and take on the rides. Most guests will be lining the streets for the parade and the rides can be quiet. The rides are generally at their busiest late morning so use these times to eat and do your shopping.
The best thing you can do to ensure a successful trip to a theme park is your homework! Find out as much as you can before you travel and seek the advice of people who have visited before. Have your plan of action worked out in advance and your trip will be considerably enhanced.
Byline
Article by Sally Stacey