I am in a quandary and as a theme park fan it is a familiar one. Somewhere in the world there is always a new ride or attraction being built which begs to be visited and you can never afford the time and the money to visit them all but this year has thrown up more confusion than most.
Thoughts of Sunny Spain
I had intended to make my first visit to Port Aventura in Spain but then came the announcement of a new addition in the shape of Ferrari Land which could be operational as early as 2016. With the promise of Europe's highest and fastest launch coaster I am keen to see the development and so I felt that once again I should delay my plans to travel to Spain. I say once again because this would not be the first time that a proposed trip to Port Aventura has ended up on the back burner. If I carry on like this I may never see the park!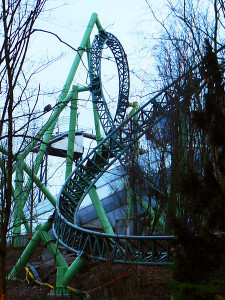 Scandinavian Dream
With the news from Port Aventura my thoughts turned to Sweden. The much heralded new coaster at Liseberg will shortly be opening and with a vacant slot in my diary a trip to Gothenburg seemed like a great idea. This new coaster is of particular interest to me as it is a new and more dramatic incarnation of the brilliant Blue Fire at Europe Park, a Mack Rides masterpiece which always delights.
Conflict of Interests
I had almost reached the point of booking the trip but as my cursor hovered over the Ryanair flight I was greeted with the news that yet another exciting coaster will open in 2016. This would not have been a distraction were the ride to be built in America or frankly just about anywhere on the planet other than where is it going to be which is Stockholm. Those who passed their geography GCSE will have noted that Stockholm is the capital of Sweden and therefore in the same country as Gothenburg. So here is my dilemma. Do I go to Gothenburg now or do I wait for the new wooden coaster, Wildfire, to be constructed and visit both sites in one trip at a later date?
Lengthy Delay
That date would indeed be much later because 2016 is now earmarked for Port Aventura and visiting both Sweden and Spain in one year might be an unwarranted extravagance. I can only pray that no other new rides are announced in the coming months or my head will probably explode!
Decisions Decisions
I had promised myself a short break somewhere this year and so it is make your mind up time. Will it be sun in Salou or fun and games in Gothenburg? I guess it now comes down to where I feel I most want to visit twice. Am I dreaming of Spanish siestas or Scandinavian style? Oh bugger it I will go to Germany. One mention of Blue Fire and I now feel that I have to return to Europa Park. After all I have only been there 10 times which simply isn't enough!
Byline
Article by Sally Stacey