Not so long ago plans were afoot for a new hotel at Thorpe Park. It was a great idea. All the best parks have onsite accommodation after all. Naturally being such a good idea the plans were abandoned in favour of the Crash Pad. For those who have not experienced this less than idyllic accommodation, the Crash Pad is an unsightly temporary structure in which the rooms are actually remodelled shipping containers.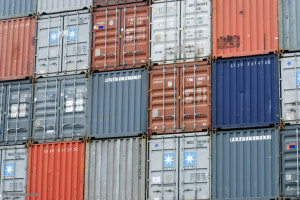 Shipping containers are popular with Merlin Entertainments who run Thorpe Park, Chessington World of Adventures, Legoland and Alton Towers. Their attitude seems to be why build a proper structure when you can do it cheaper with a shipping container. They have shipping container shops, shipping container Fright Night Mazes (Experiment 10), shipping container attractions (Nemesis Sub Terra) and now guests can sleep in a shipping container too. Everything is so cheap and tacky but at least they are consistent.
Merlin are getting more and more stingy as the years go by and the accommodation at Thorpe is the perfect illustration of their cheapskate approach to their parks. After a less than enthusiastic reception for the hotel you might imagine that they would change tack but no! The Crash Pad is to be extended this year but there is some question over the nature of the theming and the new name of the establishment.
The collection of containers was going to be called the Waterfront Hotel but all references to this have been removed from the website. That name conjured up images of an attractive New England style property with ocean views whereas the reality was a series of pods on the banks of a reservoir adjacent to the staff smoking area and a chemical waste depository. Nice!
Three different concepts for the improved Crash Pad have been posted on the Park's Facebook page. The first of these features a giant shark fashioned from what looks like debris from the aftermath of a natural disaster. This looks like a bold attempt to marry the destruction theming at the Swarm with Amity area of the park but is more likely an attempt to save money by using rubbish to construct the entrance.
The second option is entitled Stealth Ship and lord only knows what one of those is. It is not Stealthy and bears no resemblance to the ride of the same name which is themed for a race track. Anyway this concept looks out of keeping with the rest of the park and frankly rather silly. The final effort is a boardwalk type affair reminiscent of old amusement parks. The dated and deliberately distressed/a> nature of this one seems most in keeping with the rest of the park and also the shipping containers. If pursued, the end result will doubtless be more shabby than chic but what's the point of spending fortunes trying to vamp up a pile of shipping containers?
Whatever theme is settled upon this will not be a luxury hotel. It will be an unpleasant series of characterless metal pods with few luxuries. Residents will have the delights of Bar 360 in which to dine. I tried eating in this establishment last year.  After an interminable wait for my food I was served a borderline inedible plate of nasty sausages and some reconstituted slop masquerading as mashed potato topped with congealed gravy. I initially felt sorry for my friend whose food didn't arrive at all but after eating the meal I think she had the better deal!
Thorpe Park has  a reputation for attracting a less than classy clientele which is just as well because nobody with any standards would want to inhabit the Crash Pad even if it is a giant shark made of waste materials or indeed especially if it is a giant shark or a Stealth Ship for that matter. Merlin executives really should visit Europa Park to see the Bell Rock Hotel. Now that is what people really want in a waterfront themed hotel! I fear we will have reached judgement day before a proper hotel is built at Thorpe and the rides will have fallen down by then, in fact some of them look like they might fall down before the new Crash Pad arrives. This will save more money as the debris could be used to build that shark!
Byline
Article by Sally Stacey