My goodness it is only a week since I wrote about the dangers of falling debris from theme park rides and now there have been two further high profile incidents. To make matters worse both events occurred on the same ride! The Smiler at Alton Towers is closed again as this ride, which appears to be cursed, has suffered failures to both the structure and the ride car.
Protective Clothing
In my last piece I cheekily suggested that it might be a good idea to wear a crash helmet to theme parks in case you get struck by falling metal. My observation doesn't seem so silly now. In fact I am wondering if I should suggest a Kevlar vest as well. Last week a track bolt fell from the ride crashing through the roof of the toilet building which is underneath a portion of the Smiler. That could have been a very nasty event if the bolt had hit a guest instead of roof tiles.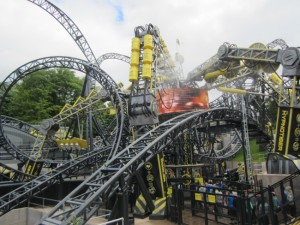 Incident
To add insult and injury to the situation things got worse at the weekend when guide wheels became detached from the ride with debris striking four guests in the front car and falling into catch nets below where it was clearly visible. The guests were signally for the ride to be stopped but completed the circuit without further incident. The Smiler is now closed yet again.
Repeated Issues
It is not the first time that a ride at a Merlin park has suffered repeated technical issues after it has been opened but the Smiler has simply been a disaster. The ride opened two months late due to a series of problems during construction and has then been subject of repeated breakdowns and closures. Many ride enthusiasts were anxious to experience the Smiler when it opened and were rushing to Staffordshire especially to try out the coaster only to be disappointed when it either didn't open on the day or was subject to repeated shutdowns.
Queues
To make matters worse, the throughput does not appear to be very high even when the Smiler is running and so the queues are generally horrific. I was one of the many people who made a pilgrimage to the park and I got really lucky. Having heard many stories of three hour queues and incessant closures I arrived early and managed to snaffle one of the very limited Fastrack tickets on offer. I walked onto the ride without queuing at all and made it round without any issues. The queue line was indeed huge and the wait about three hours. I have to say that the Smiler was OK but nothing amazing and I would certainly not wait for hours to ride.
Compensation
I feel sorry for the guests caught up in the incidents because in my experience Merlin are not great at compensating people who have had a bad experience. Having worked at one of their parks I could relate many stories of people who have been stuck on rides for hours or otherwise inconvenienced. Trust me, these victims are generally not greeted with loads of treats and special favours. There are no cases of good wine and tasty food after the events. You are generally given a cup of coffee and a Fastrack ticket and then sent on their way!
Hopefully the guests at Alton Towers fared a little better and at least got a free day at the park although they may not be too keen to use that! Merlin need to get their act together because their parks have way too many issues with new rides and that has to be bad for business as well as ruining many a day out for their customers.
Byline
Article by Sally Stacey