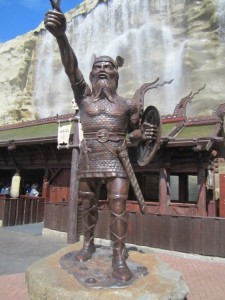 Valhalla represented a huge investment for Blackpool Pleasure Beach and was a commendably ambitious foray into new territory. The ride is a combination of water ride and dark ride which mixes drops, water effects and lighting and temperature changes to provide an intense all round sensory experience which has made the ride an absolute triumph. The Viking theming is the perfect complement to a dramatic water ride. Valhalla look enticing before you even enter the station.
Water
I will never forget my first ride on Valhalla as it was eventful to say the least. Some water rides promise a soaking but then fail to deliver but one look at the Valhalla station was all I needed to realise that I was going to get drenched. In the event I got even wetter than that! The returning boats were more like paddling pools with staff feverishly sucking out excess water before new guests boarded and the strategically positioned poncho stall was doing very good business. I decided against the plastic poncho which was a major error of judgement.
First Ride
As I exited the station in my boat the spectre of a rather sizeable waterfall appeared but of course everyone knows that sensors will cut the water as the boat passes below the falls and so I was not unduly concerned. Sadly the sensors failed on this occasion and I was hit by a Niagara of cold water. I was soaked through before I had even entered the ride building and worse was to come. The ride features temperature changes between – 20 degrees and 40 degrees. In my drenched state the faux fire effects which come first were a welcome release from hypothermia. After this brief respite you are spun on a turntable and dropped into darkness with more water entering the boat. My feet were soaked and I was earnestly regretting the decision to wear trainers and socks. I was just reprimanding myself for not sporting my usual aqua shoes or sandals when I entered the Ice Room. The temperature drops like a stone here and winter boots would have been more in order. I think I had icicles forming on my face by the time I was through there.
Even More Water
Just when I was thinking that I couldn't get any more wet there was another drop followed by a tunnel of water and water cannons which both deposited a lot of the wet stuff onto my head and into the boat. I was now shivering away praying for salvation but had to brave the final drop accompanied by another drenching. This was mercifully succeeded by fire effects which warm you briefly before returning to the station.
Failure
I was greeted by the staff with sincere apologies for the technical failure with the waterfall and asked if I would like another ride! I graciously declined their offer and took refuge in the drying machine at the exit. It was at this point that I realised that my wet T shirt had become rather revealing. Leaving the ride area to a chorus of "get your tits out for the lads" I commented that I had clearly more or less done this and beat a retreat to the coffee shop for some warmth on what was a decidedly chilly day.
Soaking
At the end of the day the waterfall sensor failure only delayed the inevitable. You get hopelessly soaked on Valhalla and on subsequent occasions I have whimped out and taken the poncho. Despite the perils of the water it has to be said that this is a fantastic ride packed full of effects at every turn. The changing scenery, lighting and temperature are accompanied by several drops on an impressively long circuit and this ride delivers from start to finish. It should be noted, though, that it is best experienced on a warm day if there is such a thing in Blackpool!
Byline
Article by Sally Stacey