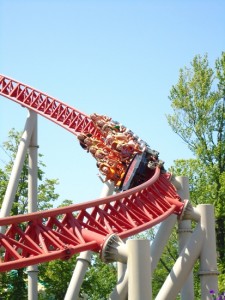 Everyone has their own tastes in rides and so ask anyone to make a top ten list and it will be just that little bit different from any other. Some people love steel coasters others can't resist the air time on a wooden construction and for others speed is all. As for me, well my favourite ride on the planet is Maverick at Cedar Point, an Intamin masterpiece that may not be your personal top of the pops but cannot fail to impress.
The Ride
Ok the ride car is a little industrial but overall affords a reasonably comfortable journey even if you are packed in a little tightly. You start by negotiating an accelerated lift hill before plunging over a 105ft tower and taking on a 95 degree drop. You then race full throttle through a series of twists and inversions on the bright scarlet track before slowing down and entering a dark tunnel. The train is then launched out of the tunnel to a speed of 70 mph into a sharp left turn before circumnavigating a lake with water jets and then racing around more bends and drops before returning to the station. Maverick is a full-on chase that is thrilling from start to finish and brilliantly has the most intense element of the ride mid-cycle.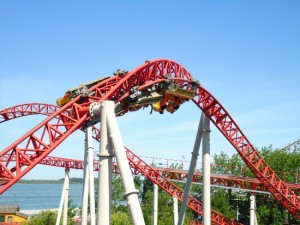 So Good
There is so much to recommend Maverick. The theme is the old Wild West and the park highlight the experience with the tag line "The Old West Was Never This Wild". The ride thrills from beginning to end and it is very long. On too many rides you are just getting into the thrills when you find your fun has come to end after 45 seconds but Maverick gives you a full two and a half minutes of excitement on its 1360 metre track making it the fourth longest ride at the park. This coaster is absolute proof that a ride does not have to be the highest or fastest to be simply amazing and it certainly thrilled me down to my toes. At just 105ft the structure is relatively diminutive but it really packs a punch and there are great views of the lake and neighbouring Mean Streak to enjoy.
Queuing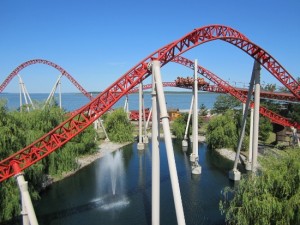 The qualities of Maverick are no secret and so the attraction can develop considerable queues. The queue line is unremarkable and offers few diversions to entertain you but much of it is shaded and it does keep moving. Once at the platform you can choose your row and the front is the place to be! Two trains are loaded simultaneously and so you have two front row lines to choose from. Once in your row you will only have to wait about 3 or 4 cycles before being seated. If you want to take a few spins on Maverick make this ride your first destination on entering the park but be warned – you have a long walk from the entrance to get to it!
Byline
Article by theme park enthusiast Sally Stacey